It is only fitting that the King of Gods, Zeus had a monumental structure in Peloponnesus, which is Modern Greece. The statue itself consisted of Ivory and was also gold-plated, which is expected for such a sacred being. The Statue of Zeus stood at an astonishing 40-feet and was located on the western coast of Greece.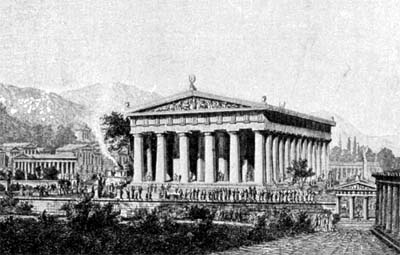 The Temple of Olympia is where the statue was and was in the location of the very first Olympic games.
The shrine to Zeus here was simple in the early years, but as time went by and the games increased in importance, it became obvious that a new, larger temple, one worthy of the King of the gods, was needed. Between 470 and 460 B.C., construction on a new temple was started. The designer was Libon of Elis and his masterpiece, The Temple of Zeus, was completed in 456 B.C..
To put the Statue of Zeus into perspective, the statue was about twice the size of the Lincoln Memorial in Washington DC. The photo above is a depiction of what researchers believed the Temple looked like. Although pictures existed, many were destroyed or on coins which were hard to make out.
Unfortunately, it was damaged in an earthquake in 170 B.C. and repaired. It mater burned down in 425 A.D. and is still in ruins in the ancient city of Peloponnesus. For more on the seven ancient wonders of the world and history, please visit Matthew D. McGrath's official website.