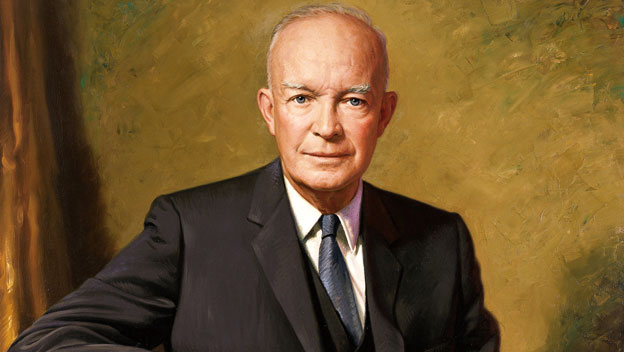 Most people know that President Dwight D. Eisenhower was an American president. Some know he was the 34th, that he was born in Denison, Texas, and that he was a five-star general. Here are a few lesser known facts you may not have heard before.
1. He banished all squirrels on the White House's lawn.
In the spring of 1954, the American Public Golf Association set up a new outdoor putting green, conveniently placed steps away the Oval Office. Eisenhower was an avid golfer, and became enraged when he found that the squirrels who roamed the White House grounds were digging up the putting green. He ordered his valet, Sergeant John Moaney, to shoot any squirrels on site. The Secret Service decided that wasn't the best tactic and had groundskeepers trap the squirrels and release them into Rock Creek Park instead.
2. He was the first president to ride in a helicopter.
At Eisenhower's request, the Secret Service approved the use of helicopters for short trips to and from the White House. On July 12, 1957, Eisenhower became the first president to ride a helicopter, flying in a two-passenger Bell H-13J to Camp David as part of a test of the White House evacuation procedures. Throughout his second term he used helicopters to fly to Camp David and his farm in Gettysburg, Pennsylvania.
3. While president, he spent almost two months in the hospital. 
During a vacation in Colorado in September 1955, Eisenhower suffered a heart attack. He was rushed to Denver's Fitzsimmons Army Hospital where he remained for nearly seven weeks. His staff took over the hospital's eighth floor, and Vice President Richard Nixon ran cabinet meetings (with the president's approval, of course.)
4. He never saw active combat.
Despite 35 years in the military, including serving during both world wars, Eisenhower never saw a single day of active combat. Even though he requested an overseas assignment during World War I, he remained in training roles at home. By the time the United States entered World War II, Eisenhower had risen to become one of America's top generals and was eventually appointed supreme commander of the Allied Expeditionary Force in Europe.
5. He was born David Dwight Eisenhower.
Eisenhower's parents originally named him after his father, but his mother, Ida, soon realized it wasn't worth the confusion at home. She switched his first and middle name to avoid having two David's to keep track of at all times. His original birth name remains inked in the family Bible and printed in his high school yearbook.